Finding Plus Size Swimwear that fits Real Australian Women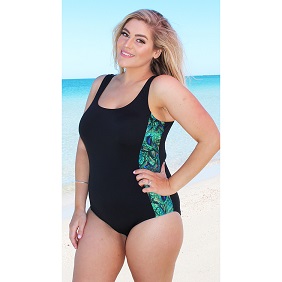 If you are a plus size woman, finding plus size swimwear that fits all over is a struggle. If you are curvy, or have a big bust, swimwear shopping can be a nightmare! Without a standard sizing guide in Australia a woman might be a size 18 in one brand and a size 22 in another. If a plus size one piece swimsuit is too short in the body length, it won't fit. But once you find the right brand and size, your confidence level can go through the roof! You will never avoid going to the beach or pool again.
Shop Online for More Choice
Going from store to store and trying on plus size swimsuit after swimsuit can be demoralizing and you might not be able to find your size. Many stores have racks and racks of small sizes and have little choice for plus size swimsuits for women. That's where online shopping can be the perfect choice if you are self-conscious and want to avoid the embarrassment of not finding the right size. For the cost of postage, it can be a sensible choice for finding the perfect plus size swimwear.
With so many choices, online shopping can be overwhelming. Always check the returns policy to make sure that you can return anything that is not a good fit.
Choose the right fabric - nylon/lycra or chlorine resistant?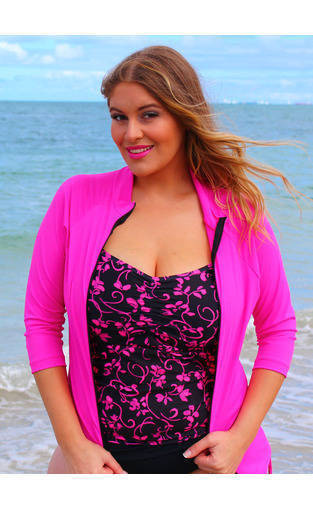 Make sure you choose the fabric that the swimsuit is made from. If you intend to swim for exercise in a chlorinated pool, it is mandatory to choose a chlorine resistant swimsuit. Swimwear that is made from chlorine resistant fabric will not fade or loose its shape when used in pools. Make sure to check the fabric components on the swing tag. If the swimsuit contains elastane or lycra it is is not a true chlorine resistant swimsuit. Chlorine resistant fabric is made from polyester/pbt and does not have an elastic component so will therefore not rot when exposed to chlorine.
Choose a style to suit your curvy body
Being a curvy plus size women does not mean that you have to look frumpy. SeaJewels Swimwear has a great range of plus size swimwear in fashionable styles and colours that complement all body shapes. There are swimsuits that are specifically designed for a fuller bust with swim bras available up to a 24G. Swim bras can be worn under tankini tops or even under a one piece to provide excellent bust support.
A one piece with a skirt can look cute and does a great job of hiding lumps and bumps and is a great choice for plus size women.
The average woman is size 14/16
What size is considered plus size? According to the Australian Bureau of Statistics the average Australian woman is -
Height: 162 cm tall
Weight: 71 kg in 2014, compared to 67 kg in 1999
Dress Size 14/16
If size 14/16 is the average, why are most swimwear manufacturers focusing on sizes 8 or 10?
Make sure the fit is perfect

There is little doubt that most swimwear manufacturers fail to provide a good fitting swimsuit for plus size women. SeaJewels swimwear is the excption. They have been manufacturing plus size swimwear for 20 years and customers who visit the factory shop are looked after with a variety of chlorine resistant swimwear that fits in the right places. For women that are hard to fit the seamstress can customise the swimsuit so that it is a perfect fit. The other beauty of the factory shop is that the styles and sizes can be adjusted to ensure that when someone orders online, the customer will receive a swimsuit that the style is tried and tested on many customers to ensure that it is true to size and suitable for a variety of body shapes.
Why choose Sea Jewels swimwear?
SeaJewels has been providing swimwear for plus size women for nearly 20 years
Swimwear is made in Perth Australia using the best quality Italian chlorine resistant fabric
They deliver excellent customers service
Phone service available to help you choose the right style and size
SeaJewels staff understand the needs of plus size women and will go that extra mile to ensure that the customers are happy with their purchase
Perth customers can get a personalised fitting and the swimsuit will then be made to measure at not extra charge
For all your plus size swimwear needs visit www.seajewelsswimwear.com.au or Freecall 1800 008 482 for advice over the phone.