For many ladies, these warm summer days are the slowest days of the year. They stress about being unable to wear a little string bikini. Guess what? The world won't end if you realize the truth and wear your plus size swimwear with confidence.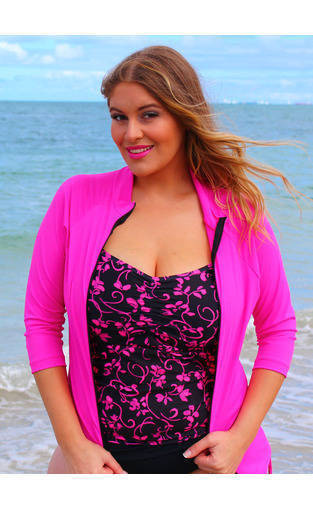 Read on to find out how you can feel confident in your plus size swimwear – practical, easy peasy tips!
There is no bikini body
We have all heard the words 'bikini body' and as soon as they are mentioned an image of a woman with the 'perfect' body floats through your mind. It pleases us to inform you that 'bikini body' is just a myth! There is no one body type that deserves to wear a bikini more than the other. So bear in mind that you can wear your plus size swimwear anytime you want no bikini body needed!
Love your body – in a plus size swimwear
The major key to being confident, beautiful, and happy in your stylish and comfortable plus size swimwear is to love your body. Your body is perfect! Do not hold yourself up to the unrealistic standards set by an unrealistic society. Don't compare yourself or feel less than the beauty you are. Wear your plus size swimwear with pride.
The right plus size swimwear makes a ton of difference
You have to put the body you love in the right swimsuit. First, browse a store that sells quality, chlorine resistant swimwear like Sea Jewels. Next, choose something stylish that defines you and it should be a flattering color too. Ensure it feels comfortable and you can experience your confidence soar by looking at it. Love the plus size swimwear you choose and move on to the final tips to finish.
Don't just stop at a pretty plus size swimwear. Take it up a notch with a fitting and super stylish or simple (if you prefer) cover up. You can opt for a tunic style cover up, beach pants, and more. Accessories can be hats, sunglasses, sandals, and a tote bag. Embrace your inner fashionista on this one.
Obey the rule of wearing swimsuits
There is only one rule for swimsuits and it is that wearing swimsuits should be fun! Put a smile on your face and give off only positive vibes. Go with friends and family that bring out the happy side of you. Have some fun! It's no use been scared or sad at the beach or pool when everyone is having the best time of their lives. Join in and thank us later!
Sea Jewels has you covered on the perfect plus size swimwear to take your confidence off the charts!
Check out the range at www.seajewelsswimwear.com.au
Freecall 1800 008 482
Visit the studio at 3/84 Barberry Way Bibra Lake WA 6162 make an appointment