The modern plus size woman should have access to affordable, chlorine resistant swimwear that flatters her body. Keep reading to learn how to find the perfect plus size swimwear this season.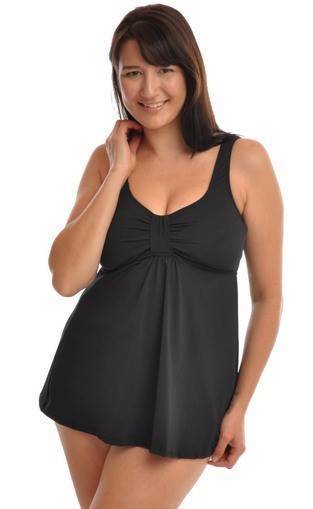 Feel comfortable shopping online
The only thing worse than trying on swimsuits in a dressing room is purchasing them online. You are never really sure if they are going to fit, and you dread having to send them back and purchase a different size. There are a few tips you can follow to shop for plus size swimwear online without the headache and hassle.
Take your measurements. Most online swimwear retailers offer size charts to help you determine which size is best for you. Remember that sizes differ by brand, so your size may not be consistent across all swimwear. Using your exact measurements is the best guarantee for getting the right size.
Evaluate your old swimsuits. If you still have old bathing suits in your closet or dresser, pull them out. Think through what you liked and disliked about the sizes. Were they snug in some places or a little too loose? Use this information to decide on your next purchase.
Reach out to customer support. Experienced customer service reps can answer questions about the fit of a company's plus size swimwear.
Read online reviews. Other customers who have purchased the product may have shared whether it ran true too size, too big, or too small.
Consider flattering styles
When it comes to plus size swimwear, you can wear whatever you want. Follow the latest trends, find suits that fit your unique style, or choose whatever you are comfortable in. If you are looking to purchase chlorine resistant swimwear that flatters your body, you can try these tips below.
For a larger middle, opt for styles with ruffles or shirring. These details can draw attention away from your waist and produce a slimming effect to make you feel more confident in your own skin.
Choose an empire waist to elongate your figure. Tankinis can give this illusion by gathering at the top and having a flowy look around your waist. The loose fit around your tummy is also great for adding confidence.
For a larger bottom, select a swim dress style or a tankini with a longer skirt. The flowy detail can help slip your waist while covering your bottom.
High waisted bottoms can give you a sculpted look to your curves, and swim shorts can help you feel comfortable in the water.
Choose an off the shoulder style for plus size swimwear that balances out pear-shaped proportions by adding volume to your chest.
If you want to give a slimmer look to thick thighs, find a one-piece that offers the appearance of shorts on the bottom.
For women who are larger on top, sweetheart necklines flatter full chests and take the focus off your chest and shoulders.
Try new styles
When it comes to plus size swimwear, the styles are always being updated. You can keep up with trends by finding flattering silhouettes in on-trend colors and patterns. Don't be afraid to mix it up because you may find something that suits your body well.
It is also important to remember that you do not have to conform to the hottest runway trends or search for pieces that the celebrities are wearing. The best swimsuit is one that fits you and you feel comfortable wearing. Anything that makes you feel confident is trendy!
Find the highest quality in plus size swimwear
Women searching for high quality, stylish plus size swimwear have to check out the product range from Sea Jewels. This Australian retailer offers the best in flattering, chlorine resistant swimwear for all body types. Thanks to their wide range of products, every woman can find something that fits her body and style!
For all your plus size swimwear needs visit www.seajewelsswimwear.com.au or Freecall 1800 008 482 for advice over the phone.