Thankfully, we are not going to leave you confused and finding your best colour all by yourself. Follow this guide to get on the right track and make shopping for your elegant plus size swimwear a fun and easy experience.
There are three major skin tones and each person's skin tone influences how different colours look on them. We will help you identify them as we go.
A warm skin tone comes with yellow, olive, or green shades. You can test for warm skin tones by looking at your veins. If they are green, you have a warm skin tone. Other indications are your skin burns easily and you look better in silver. Women with warm skin tones often have dark blonde or brown hair.

Plus size swimwear colours that would flatter and suit this skin tone include reds, gold, orange, dark turquoise, moss, olive, olive greens, browns, creamy white, you get the picture.
Regardless of if you have a light or dark skin, when your skin tone is cool, it will have a blue undertone. You automatically favour bright colours. You can test for a cool skin tone by checking for blue veins, if you look good in gold and if you tan easily. Women with cool skin tones often have light blonde hair, dark brown hair, or dark black hair. You would look fabulous in colours like deep purple, light purple, bright blue, sapphire, lavender, shocking pink, royal blue, ruby, and so on. Don't be scared to go bold on plus size swimwear colours.
Yes, there are those with a neutral skin tone. Contrary to what you might think, having a neutral skin tone does not mean you can get away with any colour of plus size swimwear. It simply means your undertone matches your skin, making you neither warm nor cold. Women with a neutral skin tone can have blonde or brown hair. Focus on soft or light shades or colours like peach, coral, rose, jade, greys, browns, off-white, and so on.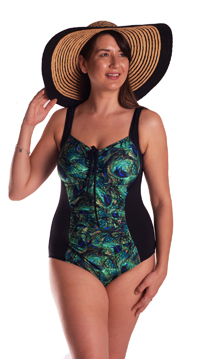 Bonus point – No matter your skin tone, a colour that fits all will always be black!
When you have decided on your best colours, head over to the store to find the perfect plus size swimwear for you. Our collection includes a wide variety of colour designed creatively to ensure that no matter your style or need, you can always find something that is… so YOU.
This summer season, Sea Jewels Swimwear has increased the colour range in styles to suit plus size swimwear and chlorine resistant styles. New colours include red, orange, blue and green so you are sure to find the perfect match for your skintone. Shop online or call customer help on 1800 008 482
For all your plus size swimwear needs visit www.seajewelsswimwear.com.au or Freecall 1800 008 482 for advice over the phone.