Washable and Re Usable Cotton Face Masks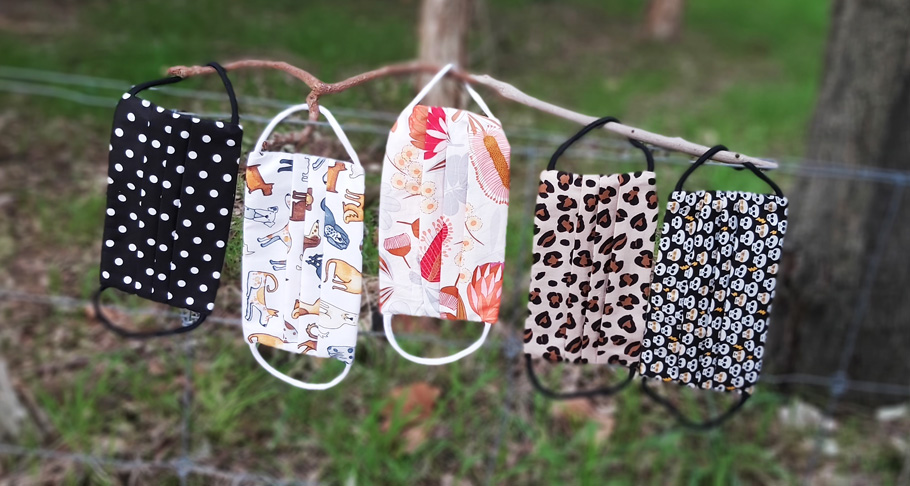 Australian Made Face Masks for General Public Use To Offer Some Protection When In Public
Should I Be Wearing A Face Mask When I Go Shopping For Groceries?
I don't know about you but I find the information coming from governments very confusing when it comes to face masks.
While I agree that
Washing your hands frequently with soap for 20-30 seconds
Not touching Your Face
Staying away from people by staying at home to break the chain of transmission
Keeping a couple of meters away from people and preferably a lot more if you have to go out.
are the most important infection control measures, we all still need to
Get our groceries
Go to the chemist
Get petrol
And for many, they need to catch public transport as well
The Government's and Medical Communities messaging says that we do not have enough face masks for our health care workers and they also say.
People who are sick should wear face masks to protect others because the face mask will protect others. Most likely by reducing the amount of virus they breath into the wider air space.
And that many Covid-19 carriers are asymptomatic (no symptoms) and do not realise they are sick
People who are not sick shouldn't wear face masks
But to my mind this does not fully add up. If I am sick I should wear a face mask and not go out.
But if I do not know I am sick with a virus or the virus (Covid-19), I am likely to go out and do my grocery shop and possibly infect others.
Or worse, others around me who do not know they are sick can be exhaling virus laden droplets that I then walk through and I won't be wearing any protection to stop myself from breathing these in. Then I will get sick and my family might too.
Interestingly reports of The Diamond Princess which had over 600 Covid-19 cases reported that 300 were asymptomatic. Wow - That is HUGE. That's 50% silent spreaders who if they had not been tested would not know they were sick.
Surely, If everyone is wearing a face mask regardless of whether they know they are sick or not, this would provide greater community protection IF at the same time we are all practicing social distancing and regular hand washing.
In Fact countries like China enforce people to wear face masks for this very reason. Thailand has compulsory face masks on trains now.
https://www.bangkokpost.com/thailand/general/1885665/face-masks-compulsory-on-all-trains
Many countries in Europe have already enforced compulsory face mask policies in public areas. The Czech Republic introduced the measure around March 23 2020, while Slovakia announced it on Thursday (March 2020).
BUT I CANNOT GET AN N95 MASK
The gold standard in face masks is the N95 mask which is specially manufactured and for use in infection control settings such as hospitals and because the world has been so poor at planning for a pandemic, the stocks for healthcare workers and doctors has been very lacking and it will take months for this to ramp up and they will only be made available to Health care front line workers.
This means that for the rest of us, we won't be able to get hold of these premium quality face masks for a long time.
WHAT SUBSTITUTE MATERIAL CAN I USE FOR FACE MASKS
According to a very recent study by Smart Filter which you can read here they tested different materials for making face masks with and found most blocked at least 50% of airborne particles.
https://smartairfilters.com/en/blog/best-materials-make-diy-face-mask-virus/
Our face masks are made from cotton which according to the report was the preferred material for homemade (not medical) face masks. This what Smart Air Filters concluded...
"Bottom line: Test data shows that the best choices for DIY masks are cotton t-shirts, pillowcases, or other cotton materials.
"These materials filter out approximately 50% of 0.2 micron particles, similar in size to the coronavirus. They are also as easy to breathe through as surgical masks, which makes them more comfortable enough to wear for several hours.
Doubling the layers of material for your DIY mask gives a very small increase in filtration effectiveness, but makes the mask much more difficult to breathe through."
We think 50%-70% of halving the numbers of particles that may get to your airways is much better than 0% and that if you keep your distance from others when shopping that you further improve your chances of limiting exposure.
SAFETY WHEN USING FACE MASKS FOR A SHOP
Face masks can increase your chance of infection if you do not use them carefully because people touch an infected surface and then touch the face mask and it can give a false sense of security if they do not manage how they touch, put on and take off their face masks and for how long they are worn.
Make sure you wash your hands thoroughly before touching your face masks to remove any viruses and germs
Use a hand sanitiser before putting on your facemask and we think you should put it on before you get out of your car for a shop
Store your cotton face masks in ziplock bags after they have been cleaned/washed and dried so that they are protected from accidental touching and getting contaminated until they are needed.
Only grab them by the strings, loops that go over your ears where possible
Adjust them without touching the material. Place them over your face and attach around your ears.
Do not touch your face, chin, nose, eyes, or the mask itself when it is on, (minimise as much as possible).
A face mask makes you more conscious not to do this.
Wear glasses to protect your eyes
Do not pull the facemask down below your nose or under your chin to talk to people. Any germs on the front of the mask will make contact with your face and now be near your airways defeating the purpose. If you do, I would disinfect your face with some hand sanitiser.
After your shop and before you put items in your car use hand sanitiser to clean your hands and then open your car and put your items in the car.
Once in the car use hand sanitiser again and you might then take off the mask and place back in the zip lock bag and seal or wait until you get home.
Take the face mask off by grabbing the loops over your ears and moving away from your face slowly and place in the zip lock bag and close.
Use hand sanitiser again as you may have touched the material on the mask which could have blocked a virus from getting to your airways and you don't want any virus on your hands again.
When you get home put the mask straight into a bucket of soapy water as soap dissolves viruses, bin the plastic zip lock back and wash your hands thoroughly
After washing your face mask, you can hang it out to dry in the sun.
Replace into a zip lock back using a pair of tongs if possible or after thoroughly washing your hands before sealing it in and having it ready for your next shop.
I haven't researched how long the face mask should be worn for before swapping out for a fresh face mask but we are assuming most weekly grocery shops take about an hour and we think that wearing a face mask helps protect the community if you are unknowingly infected and helps provide you with a much better level of protection than no face mask at all when used properly.
Please note, I am not a doctor and this is my common sense opinion and I have not done enough reading to back everything I have said with science.
So we are making 100% cotton face masks for the general public while pools are closed and holidays are cancelled to keep our staff in jobs and hopefully help us move through this time faster to get to zero cases and zero spread in Australia so we can get back to our loved Australian lifestyle.
Julie Wiggins
Sea Jewels Swimwear and Now Cotton Face Masks Manufacturer
TAGS: cotton facemask, facemasks, face mask, face masks
NOTE THIS WAS PUBLISHED ON SEVEN NEWS SITE WHICH OFFERS SOME OF THE CONTRADICTORY INFORMATION ABOUT FACE MASK USE DUE TO THE GENERAL PUBLICS POOR PROCESSES FOR PUTTING ON AND OFF A FACE MASK.
https://7news.com.au/lifestyle/health-wellbeing/why-wearing-a-face-mask-might-actually-increase-your-risk-of-a-coronavirus-infection-c-725940
Increased risk -
Professor Eli Perencevich, an epidemiology specialist at the University of Iowa, says wearing a mask incorrectly could actually increase a person's chances of getting the virus.
"Masks won't protect the average person," he told Forbes Magazine.
"Because they will wear them incorrectly and auto-contaminate themselves.
"I've never seen a person practice hand hygiene before removing a mask in public, and then after removing the mask.
"There's no evidence that wearing masks on healthy people will protect them."
My Takeaway Here
Doctors and Health Care Workers Who Are Healthy People Do Get Protection From Face Masks in Dangerous Conditions . So I think that is strong evidence. The real message here is that IF you do not use your face mask properly and practice hand hygiene before putting it on and after taking off your face mask as well as avoiding touching your face (or face mask) you will then be undoing all the potential good that a face mask is doing for you.
So we recommend learning best practices on facemask handling techniques.
The video below can help.
NOTE: Our facemasks sold on this site are washable cotton so are to be washed in soapy water so they can be re-used for your next shop. Soap breaks apart a viruses bonds. They are not medical quality masks but may offer some protection based on materials filter studies showing better than 50% filtration for cotton materials.
FREE SHIPPING!
Orders Over $100 FREE within Australia - $7.50 Under $100
New Customers Get a $20 Voucher*